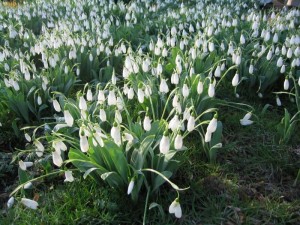 You know that Spring is on the way when you catch a glimpse of a clump of snowdrops. These fantastic hardy woodland plants are traditionally seen as one of the first signs of winter's passing. To grow them successfully though they must be planted "in the green" – i.e. as plants rather than as bulbs. Don't be tempted to buy as dry bulbs as the majority will probably fail. And once you buy them as plants get them in the ground quick.
We buy snowdrops from specialist growers around this time of year and look to offer them to our clients through the spring. Planted en masse they look great. And you can plant them in the lawn as they'll have finished their cycle by the time it comes to give the lawn it's first cut.
Another tip is to plant the double form Galathus nivalis 'Flore Pleno' which for mass plantings bulks and divides more quickly. If they do come up "blind" (i.e. they don't flower) in the first year, don't worry, they will the next year and every year after that.