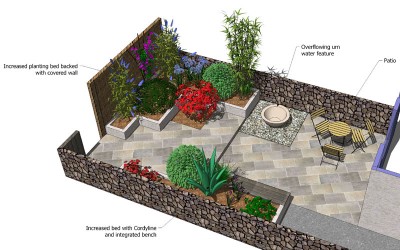 The brief for this very small garden in Roath, Cardiff was to create an after-work sanctuary with an emphasis on clean, contemporary lines.
The garden already had  several specimen plants contained in very restricted planting areas but required much more vibrant planting.
Simple materials unify the space and a two level patio affords a perfect place for dining or sunbathing.  Raised planters give extra levels and add interest to the garden and shield the garden gate which is flanked by wirework trellis panels.
A water feature on the lowest patio level takes advantage of already installed cabling and generates a pleasant accompanying sound to the secluded, restful space.