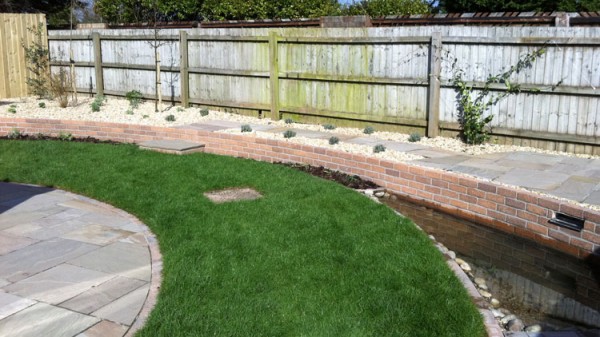 This garden swept around two sides of a house in St Mellons, Cardiff.  A new conservatory had been added to the house and the client wanted a total reworking of the garden.  We designed a sequence of crescent shaped curved layers to provide a set of flowing forms around the house.
A patio sighted for the late afternoon and early evening sunshine was raised to catch the last rays of the sun and adjacent was a  small wildlife pond with an integrated and lit cascade.
The garden was completely replanted with a mixture of low maintenance flowering shrubs, herbs and bulbs for all season interest.
A new dining patio was placed next to the house for easy access from the kitchen.  A limited palette of natural stone materials was used.