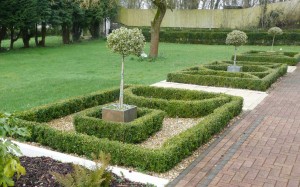 A contemporary house in Cardiff had been renovated and paths laid around the exterior.  The garden had a few mature trees including a beautiful Willow but was otherwise laid to lawn and was quite featureless.  As the first phase in the overall development of the garden we were commissioned to provide planting to highlight the front edge of the garden by the front door.
The client wanted a low maintenance solution (most do!) so we suggested a knot garden with central planted features.  This  solution provides a structured garden that complements the lines of the house and frames the path to the front door.
Instant dwarf hedges were installed  in the gravel beds.  Beautiful slate cube containers planted with standard variegated hollies were used as punctuation within the beds.  For an added effect in the early spring the containers were planted with miniature silver blue crocuses.