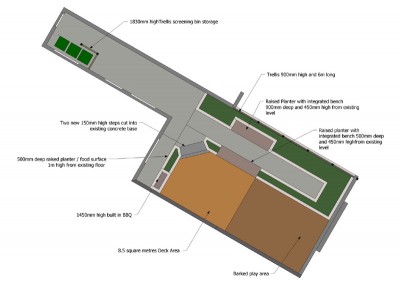 This very small garden in Cardiff was basically a set of bare concrete levels and drops with no plants.  The brief was to convert the garden into a safe play area with space that could convert for entertaining space.  The client was keen for as much child accessible planting space to be included.
The limited budget dictated that the design made use of the existing levels but these were used to generate raised planters and integrated seating.
A play area is established in the shadiest part of the garden and an adjacent deck area provides a dual use surface for play or entertaining.  Raised planters provide seating as well as enclosing the play area for safety.
The integrated seating is designed to be used as either two separate seating areas or for use as a bench and table
Storage areas were created near the house and a built in barbeque and food serving area was included.