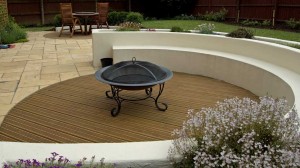 This new build L shaped garden was a very good size but apart from five trees it was completely laid to turf.  The developer had left a tiny patio (4 paving slabs) outside the patio doors but that was it.  The client wanted a design of flowing curves and contrasting textures that included a seating area, a dining area, flower beds, a herb bed and a deck for a hot tub with privacy screening.  The style was to be clean and contemporary.
We combined stained decking, York stone paving, gravel paths and aluminium edging to provide these areas all adjacent to the house.  A sinuous path led up the garden to the shed and we retained large areas of lawn for future junior football use!  New flowerbeds were established throughout the garden with low maintenance planting.  Several additional trees were planted to give privacy from the neighbouring properties including a specimen crab apple and several purple plums.  A feature rendered white curved raised bed planted with colourful alpines formed the back of an integrated seat around a fire pit for late night drinks.
The pictures below show the before, during and after build stages plus the original conceptual design as well as other views of the garden.