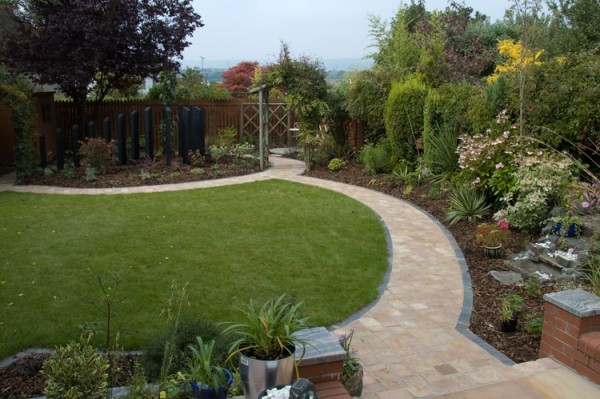 This large suburban garden near Cardiff contained some beautiful mature specimen plants and trees but lacked an overall cohesive form.  The garden was effectively a single space and the clients wanted more interest and mystery.  The quarter of the garden furthest from the house had effectively become a dumping zone with a disused greenhouse and shed and the rest of the garden was a lawn flanked by flowerbeds.
We worked with the clients to explore the potential for the garden and created a number of linked designs.  Common to all of these was the separation of the garden into a number of smaller spaces and the reclamation of all areas of the garden.  Existing areas were refreshed and a new, winding path lead from the refurbished patio around a lawn and into a new area of planted borders.  The aspect of the garden allowed both shady and sunny areas to be created and planted with a wide variety of species.
A striking feature of black timber posts created both a focal point and backdrop to planting but also the separation of several spaces.